News
Introducing the new Apple Silicon Mac Pro price 2023
Introducing the new Apple Silicon Mac Pro
Apple completes transition to silicon nanomaterial with its new desktop tower: Apple promises it will be '3x faster' than its predecessors
It's been three years since Apple began transitioning its line of Macs with Intel chips to those with its silicon chips, and the project concludes today with the latest product to make the transition: the Mac Pro desktop tower .
While the Mac Pro may look similar to its predecessor from the outside, things have changed dramatically internally. Gone are Intel's Xeon CPU and AMD's Radeon Pro graphics, but in their place is a powerful new chip called the M2 Ultra .
The features of the new Apple Mac Pro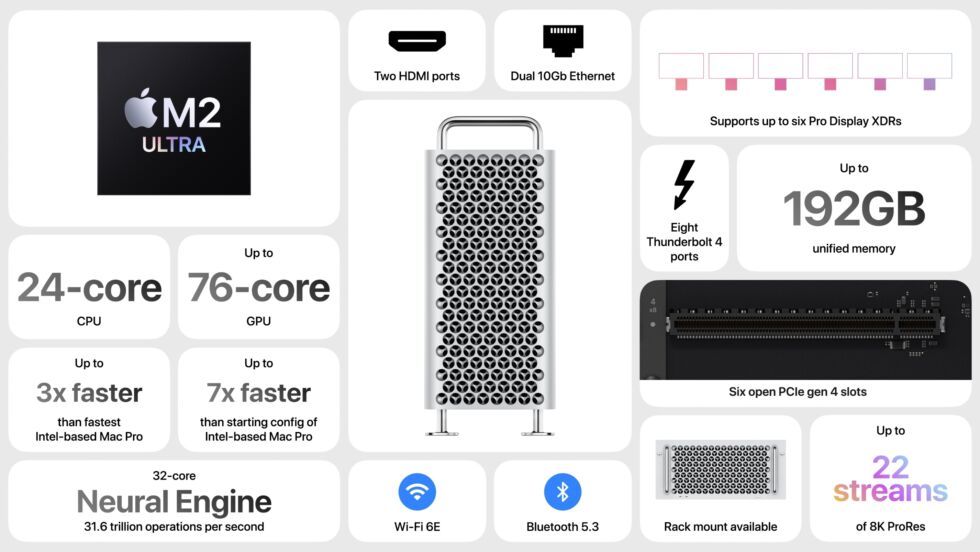 The M2 Ultra chip, also found in the new Mac Studio, features a CPU with 24 cores and a GPU with up to 76 cores. It also offers twice the memory and SSD storage of the old Mac Pro. According to Apple, the new Mac Pro will be " 3x faster " than its Intel counterpart. A truly remarkable leap in performance. The Mac Pro boasts 192GB of memory, allowing it to handle complex projects and high-performance video editing applications with ease. The features of this new Mac Pro are similar to those of the Mac Studio, but the main difference lies in the greater expansion capacity and number of portsoffered by the Mac Pro. This is essential for those who need support for traditional expansion cards, such as powerful graphics cards. While the Mac Pro doesn't support external graphics cards, the built-in M2 Ultra chip delivers outstanding performance. Connection-wise, it features eight Thunderbolt 4 ports (six on the back and two on the top) and seven PCI Express Gen 4 slots (six of which are open). Additionally, there are three USB-A ports (one on the top and two on the back), two HDMI ports that can handle resolutions up to 8K , and refresh rates up to 240Hz . As for the network connections, they are presenttwo 10Gb Ethernet ports , which guarantee ultra-fast connectivity. Ah, there's also the headphone jack. Apple points out that all rear ports, including six Thunderbolt ports, three HDMI ports, two USB ports, and the headphone jack, are placed on a single included PCI Express cardeliminating the need for a wired back panel. This simplifies setting up and using the Mac Pro, making it extremely versatile and easy to manage. As for wireless connectivity, the Mac Pro supports Wi-Fi 6e and Bluetooth 5.3, allowing for seamless connection with external devices and high-performance networks. The new Mac Pro is available in both tower and rack versions (a rack server has the same components as a tower server, but in a smaller footprint).