News
World agenda Turkey earthquake
The double earthquake that hit Turkey and Syria continues to find interest and support in the world. While the weather changes with Turkey in Greece, aid campaigns are carried out for the earthquake zone in Germany. Even Ukraine, which is at war with Russia, sends rescue teams, while teams from the EU and the USA continue to arrive.
EUROPE RUNS TO HELP
After the earthquake that killed thousands of people, humanitarian diplomacy stepped in. Both institutions such as NATO and the European Union and citizens of member countries mobilized to support Turkey. In addition to Turks living in foreign countries, non-governmental organizations, companies and citizens of countries including Germany, France, Belgium and Greece started aid campaigns.
APPROVAL IS GIVEN TO THE RUMANS
EU High Representative for Foreign Affairs and Security Policy Josep Borrell described the events as a great tragedy and said, "We are sending as much as we can. All member states have taken action," he said. Commissioner Janez Lenarcic, who is responsible for crisis management, will conduct investigations in the earthquake area today, while the EU Commission makes an emergency aid decision of 3 million Euros (60 million TL) to support the post-earthquake response efforts. The Greek Cypriot Administration's offer of assistance under the EU mechanism, which is not diplomatically recognized, was also initially rejected but later accepted.              
HELP CONFERENCE
In addition, EU Term Presidency Sweden and the EU Commission will hold a donation conference for Turkey and Syria in March in Brussels. The conference will also be open to neighboring countries, UN members and international financial institutions. The flow of aid from NATO allies continues unabated.
STATE OF RESPECT IN GERMANY
Media and government interest in the earthquakes in Turkey in Germany continues. The state television channels ARD and ZDF and the private television channel RTL made changes in the evening prime time program to provide information on the latest developments in the earthquake. Turkey's Ambassador to Berlin Ahmet Başar Şen participated in the morning program 'MoMa', a joint broadcast of ARD and ZDF yesterday, and gave a speech about the developments in the earthquake.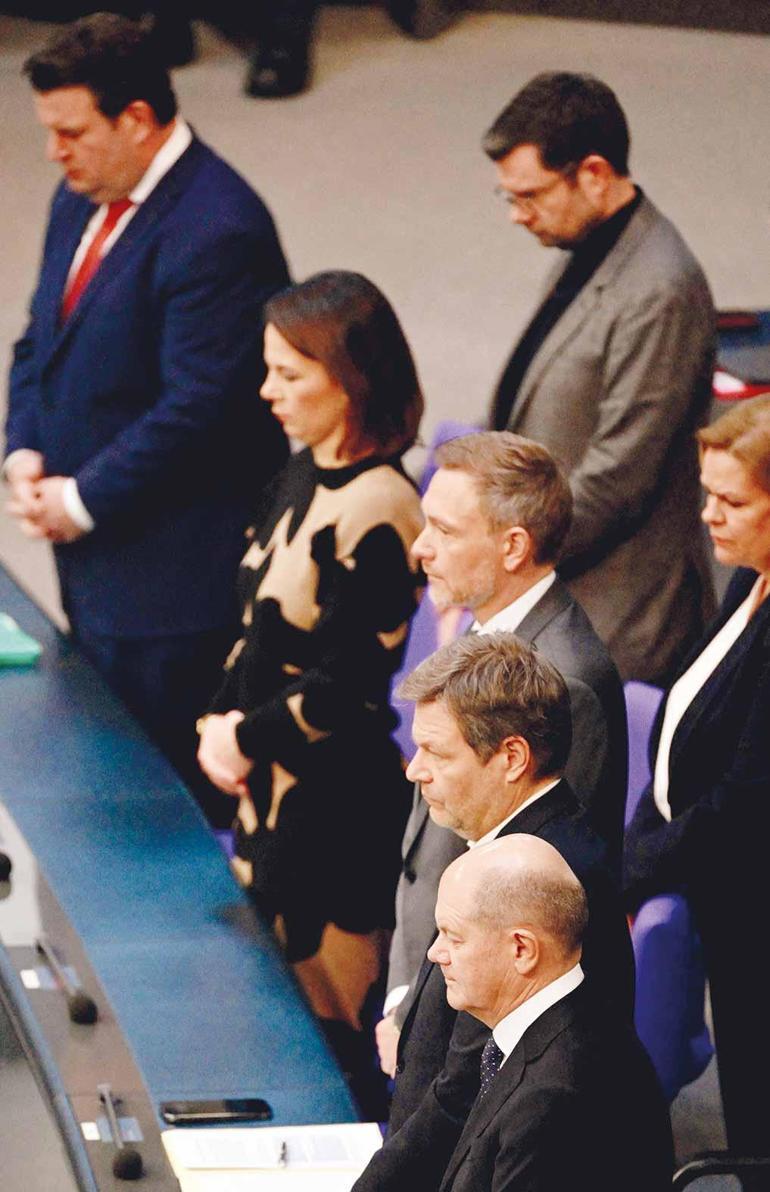 German Chancellor Olaf Scholz and his cabinet held a moment of silence.
FLAGS ARE HALLOWED
Ambassador Şen, asking for more rescue teams to be sent, said, "About 3 million people living in Germany are asking us what they can do and how they can do it. The situation is very bad. We are very grateful for the help from Germany," he said. Aid teams from Germany continue to go to Turkey. Before the speech of Prime Minister Olaf Scholz in the German Parliament yesterday, a minute's silence was held for those who died in the earthquake. Scholz, in his speech that started by saying, "Our thoughts are with the relatives who lost their loved ones, the injured, the people who lost their homes and suffered in front of the ruins," reiterated that Germany would continue to help Turkey. The flags in front of the parliament were also at half-mast.
OPENING WITH TURKISH SONG FROM GREEK TELEVISION
The earthquake disaster changed the wind that has been blowing against Turkey in Greece for 3 years. While moderate statements were coming from Greek politicians, Greek state television ERT opened its morning news with earthquake footage and the song 'I told the world that I love you'.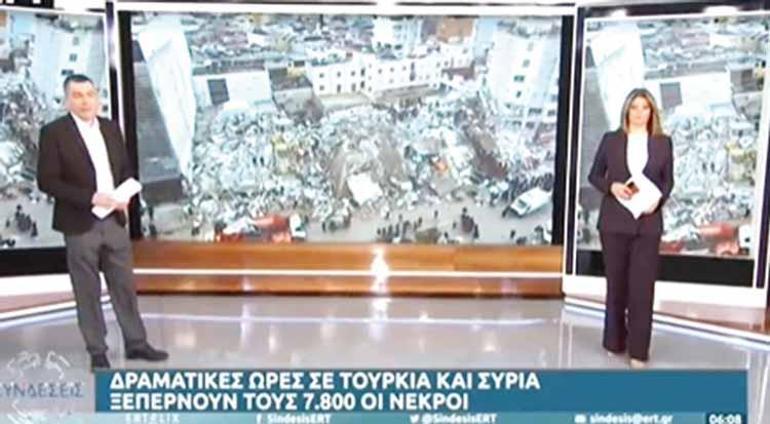 The Greek government sent the rescue team to Turkey. President Katerina Sakellaropulu and Prime Minister Kiriakos Mitsotakis called President Tayyip Erdoğan by phone, expressing their condolences and stating that they are ready for any kind of assistance. Lastly, Mitsotakis told CNN, "We have political disagreements, but there is nothing that separates us from the Turks. I can't think of a more important picture than a Turkish and a Greek saving a 7-year-old girl (Hatay). We will also help Turkey for the long-term effects of earthquakes," he said.
'WE ARE ALL TURKS' CARTOON
The disaster also affected the Grek media, which has been in a hostile attitude for years. For example, the newspaper Kathimerini published the cartoon "We are all Turks". Of course, politics is not talked about in Athens, where the human dimensions of the disaster are at the forefront. Answers are sought for questions such as "Will there be a new period of rapprochement as it was after the 1999 earthquakes", "Will the earthquake affect the election calendar in Turkey".
AIRCRAFT SHIP SUPPORT FROM USA
– The Spokesperson of the US Department of Defense (Pentagon), Patrick Ryder, announced in his daily press briefing yesterday that the USS George HW Bush aircraft carrier was diverted to Turkey to respond to a possible additional support request in the Earthquake Zone. Expressing his condolences for those who lost their lives in the earthquake on behalf of the US Secretary of Defense Lloyd Austin and the Pentagon, Ryder stated that the US EUROPEAN Forces Command sent a team to support the US Aid team in the region and said, "The USS George HW Bush aircraft carrier in the Mediterranean is moving to Turkey for support request. We are preparing to respond to requests for assistance as quickly as possible," he said. Finally, the ship anchored off the Greek city of Piraeus and was serving in the Mediterranean.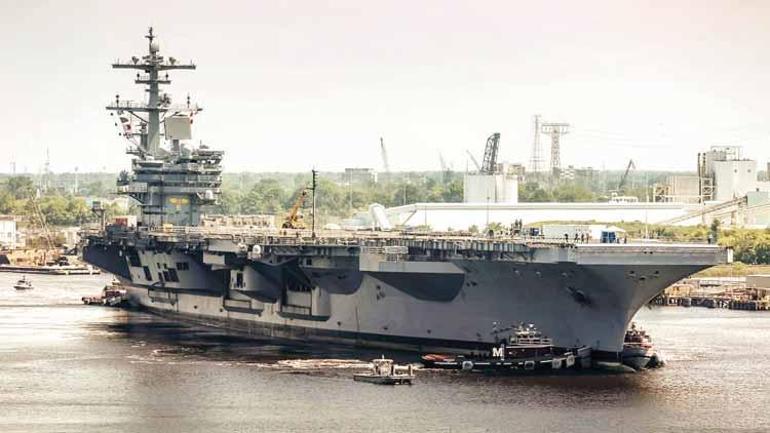 BLINKEN: WE ARE READY FOR ANY SUPPORT
– US Secretary of State Antony Blinken and German Deputy Prime Minister and Minister of Economy and Climate Protection Robert Habeck expressed their regret for the earthquakes that caused great destruction in Turkey and Syria, and expressed their readiness to give all kinds of support to the two countries. Blinken said, "It's not about our meeting, but let me say one more thing that I think is important. Both countries are working hard to support Turkey and the Syrian people when they need it. "We have deployed more than 150 search and rescue personnel," he said. "We will give and supply whatever is needed," Habeck said.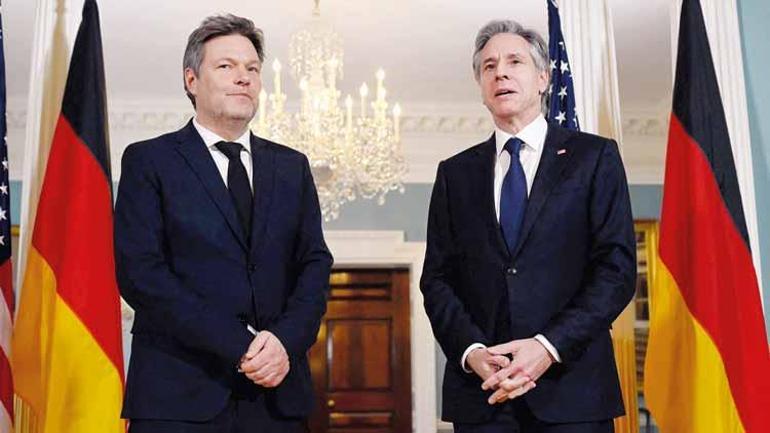 Robert Habeck – Antony Blinken