News
Volunteer youth of Azerbaijan work day and night in the earthquake zone
In addition to the personnel and humanitarian aid support of the Azerbaijani state, 100 Azerbaijani youth from the country's non-governmental organizations, who came to Kahramanmaraş on February 10, rush to the aid of earthquake victims. It was stated that the youth, who coordinated the aid, worked day and night in the distribution of food and in the play tents where the children received moral support.
Volunteer youth of Azerbaijan work day and night in the earthquake zone
As a result of the joint efforts of the Azerbaijan Youth Foundation and the Turkish Youth Foundation (TÜGVA), about 100 Azerbaijani volunteers, together with the Turkish youth, rush to the aid of earthquake victims, especially food, in Kahramanmaraş. It was noted that Azerbaijani youth, who received medical training, worked in the mobile pharmacy of TÜGVA, and the other volunteers, to whom they distributed food, were assigned to play tents set up to provide psychological support to earthquake-affected children.
It was stated that the volunteer Azerbaijani youth of 100 people operating in various parts of Kahramanmaraş will be divided into three teams and will go to Adıyaman and Malatya, the other two cities of Turkey affected by the earthquake, for humanitarian aid.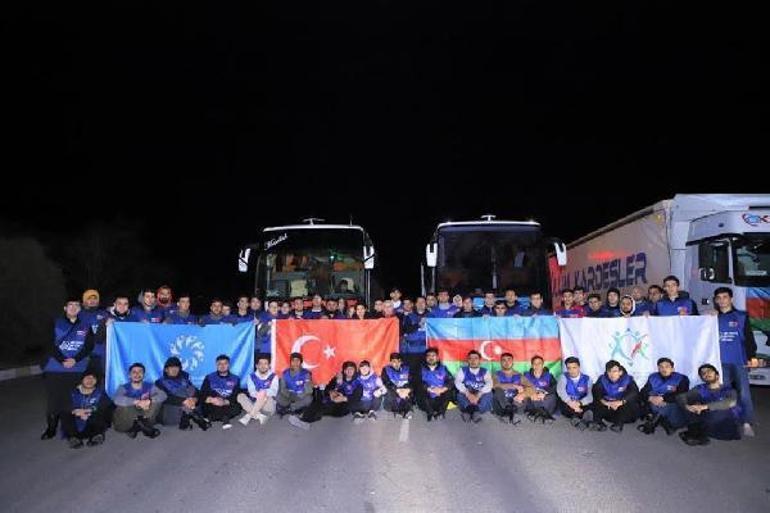 312 TRAILER AND 12 AIRCRAFT FULL OF HELP FROM AZERBAIJAN
Since The First Days Of The Earthquake disaster , the Republic of Azerbaijan sent a total of 312 trucks and 12 planes of humanitarian aid, as well as 760 search and rescue teams and 64 medical personnel working in Turkey. The humanitarian aid sent by Azerbaijan included 6481 tents, 4491 heaters, 582 generators, 2578 sleeping bags and 96 mobile toilets.
136 TONS OF HELP FROM IRAQ
Iraqi Council of Ministers Spokesperson Haydar Mecit conveyed the total balance sheet of aid sent to Turkey in his statement to the Iraqi media. Mecit stated that 136.5 tons of humanitarian aid materials were delivered to Gaziantep Airport with a total of 26 planes after the earthquake. Stating that 13 Iraqi citizens lost their lives and 22 were injured in the earthquake, Mecit noted that 20 Iraqi citizens from Gaziantep and 59 Iraqi citizens from Ankara returned to their countries Voluntarily .