News
Ukrainian leader Zelensky spoke clearly: I will no longer sit at the table with Putin
Ukrainian President Volodymyr Zelensky once again declared to the world that he did not see Russian leader Vladimir Putin as an interlocutor in the first year of the occupation. Reminding that Putin refused to sit at the table at the beginning of the war, Zelenski said, "I would not go if a leaders meeting was arranged, if I were invited."
Ukrainian President Volodymyr Zelenski, who used harsh words against Vladimir Putin on the first anniversary of Russia's attack on Ukraine, stated that he would not accept any meeting with Putin. President Recep Tayyip Erdoğan had a telephone conversation with the leaders of both countries on Friday.
'NOT MY CONTACT'
Answering the question whether Turkey is taking the stage with a new initiative in a press statement in Kiev, the Ukrainian leader said, "The President of Turkey, Mr. Erdogan, has undersigned several important works for our country. First, they made great contributions to the grain corridor agreement. His second aid, when the Russians captured our city of Mariupol, initiated the process of exchanging our soldiers, who were taken hostage at the iron and steel factory there. As for the meeting with Russia, the President of Turkey knows my views on this matter. He knows very well that I did not agree to meet with Putin. About a year ago, just days before the outbreak of the war, I asked him and other world leaders to "convince Putin to sit down before it's too late, before the great and devastating war breaks out". A year ago, no one could persuade Putin to meet with me. Now, the assumption is that he can sit at the negotiating table. No. Not anymore. At this point, I do not see that person at the head of Russia as the interlocutor. Even if a possible leaders meeting is arranged in Istanbul and I am invited, I will not go and sit at that table."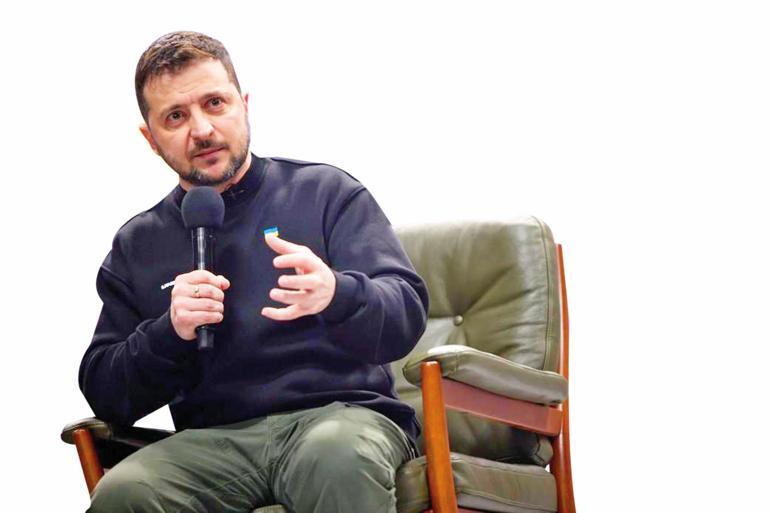 Volodymyr Zelensky
THE PRESIDENT CALLED
Even if not at the level of leaders, the last contact between the delegations of Russia and Ukraine under the mediation of Turkey took place on March 29, 2022, in the presence of President Recep Tayyip Erdoğan . After the meeting between the parties, the ties between Moscow and Kiev were broken. President Erdoğan, who played an active role in resolving some positive crises during the occupation of Ukraine, had a phone call with the leaders of Ukraine and Russia the day before, which was the first year of the war.
RESPONSE TO CHINA'S PEACE PLAN: LET IT MEET WITH UKRAINE
Ukrainian leader Zelenski also touched upon the 12-point Ukraine crisis solution proposal announced by the People's Republic of China two days ago and said, "China is a great country that we attach great importance to. We examined the text they published. I would say that certain parts are noteworthy in terms of Ukraine. However, if China wants to display a fair attitude as one of the important power centers in the world, it should not only contact the Russian side but also directly contact Ukraine and listen to us. Frankly, I would like to meet with Chinese leader Xi Jinping," he said.
OFFICIAL ANSWER
Ukrainian Foreign Minister Dmitri Kuleba made an official statement regarding China's plan and said, "The 12-point roadmap presented by the People's Republic of China contains interesting and positive elements, but it contains an item that Ukraine cannot accept at all. That article is the lifting of sanctions against Russia . Today, we cannot accept this article in an environment where Russia maintains its aggressive stance."