News
The whole world got to know him in a movie, but… the untold story of the man who lived at the airport for 18 years
The names "Mehran Karimi Nasseri" or "Sir Alfred" don't mean much to most of us, but when we say "There was a movie starring Tom Hanks…", we all understand who we are talking about. Sir Alfred passed away recently, but his story deserves to be told beyond Hollywood cinema.
The calendars showed the year 2004. It was an ordinary day for British writer Andrew Donkin .
As Donkin always got up early in the morning, his phone rang while he was working. The caller was the broadcast representative. He wanted to pack his belongings immediately, hop on the first Eurostar train from London to Paris, and be at Charles de Gaulle Airport "by 3:00 pm if possible".
"The man has been living at the airport for almost 20 years," his representative said on the phone. The person he was talking about was Sir Alfred Mehran .
Sir Alfred, who recently passed away, was a stateless political refugee who landed on Charles De Gaulle in 1988. At the time of this conversation, he had been living in terminal 1 in the part of the airport reserved for outgoing passengers for 16 years.
"If you agree, you will be able to write Mehran's biography together," his representative told Donkin. It was a huge once-in-a-lifetime opportunity for a writer.
Sir Alfred's full name was Mehran Karimi Nasseri . He had entered France without identity papers and was stuck at the airport. He couldn't board another plane because he didn't have a passport. He was also not able to get out of the airport because he could be arrested for not having identity papers. However, the airport was neutral territory; It was like a purgatory that he could never leave.
It was German editor Barbara Laugwitz who introduced Sir Alfred to Donkin. As a matter of fact, director Steven Spielberg had bought the film rights to Sir Alfred's life story, but the lion at his heart was the transcription of his experiences.
Donkin recently wrote for The Guardian about his meeting with Sir Alfred and the hours they spent together in the airport chairs.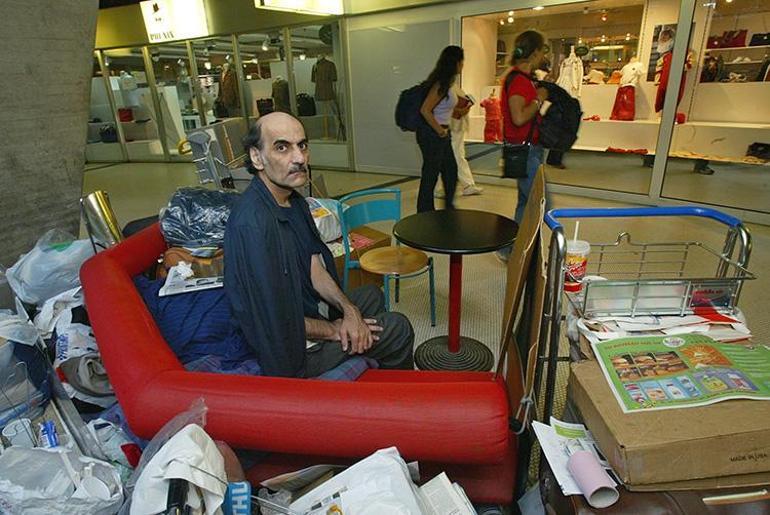 HE KEPT A DIA WITH A THOUSAND PAGES
Donkin wrote that Sir Alfred, who he described as "a man in his mid-fifties, tall, with thinning black hair, and a gleam of intelligence in his eyes," was increasingly becoming a home for the belongings he had hoarded in carts, boxes, and bags.
In the most precious of those boxes was Sir Alfred's diary, which he had written on A4 paper. Sir Alfred had been journaling for over 10 years on the pages that the kindly doctor of the airport had given him as a gift. These diaries reached 10 thousand pages front and back.
One of the things Donkin was most curious about about Alfred was how he got the title of "ser" given to the knights.
With a smile, Alfred wrote a letter to the British embassy in Brussels asking for help. The response began with "Dear Sir, Alfred…" ("Dear Sir, Alfred"), so it was actually a standard phrase used in such official correspondence. But seeing this phrase on the British Embassy letterhead was tantamount to being knighted for Alfred. From that day forward he always introduced himself as Sir Alfred. "I always called him Sir Alfred. It suited him," Donkin wrote.
THEY TRIED TO SOLVE A RIDEO TOGETHER
The promise of most autobiographies is to tell the truth. But Sir Alfred himself didn't know much when it came to the facts about his past and his lost passport. During his 16 years at the airport, many rumors and urban legends were added to his incredible story. Some said that he was exiled from Iran, others claimed that he was tortured. There were also those who said that they lost their identity documents voluntarily. The most mysterious claim was that his mother was a British nurse.
Donkin decided to develop an alternative to these approaches. He would treat Sir Alfred's story as a puzzle and try to solve it on every page he wrote.
Its editor, Laugwitz, found the idea amusing, but agreed. Thus began Donkin's three weeks with Sir Alfred.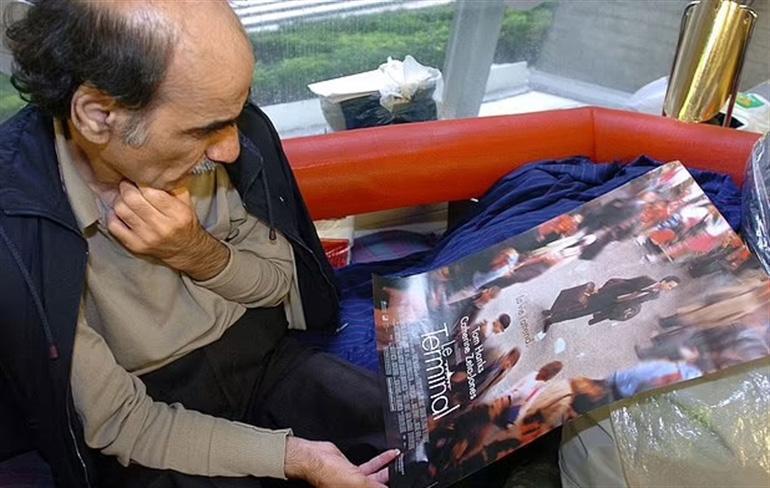 AIRPORT ROUTINE: WAKE UP, SHAVE, BREAKFAST
Having to live in an airport terminal meant that there was no order in Sir Alfred's life. He also decided to set up his own order. He would get up early every morning, go to the washroom before the airport got crowded, wash, clean and shave. Because he wanted to go out in public "at his best". He didn't want living at the airport to damage his dignity.
He would then take his breakfast at the fast food restaurant on the Dining floor, visit the terminal's newspaper kiosk, and buy a few newspapers as needed. This morning, after her routine, she returned to her usual seat and ate her breakfast, watching the increasing activity around her. Most of the passers-by didn't even pay attention to Sir Alfred. But, of course, there were those who were surprised by how much hand luggage there was, albeit very rarely.
After breakfast Sir Alfred sat down at his work, which had taken up most of his day, and began to write his diary. He was recording anything and everything in his diary. He even wrote down his conversations with Donkin, line by line. In other words, while Donkin was writing Sir Alfred's book, he was writing the process of writing the book.
TEACHING FRENCH AND GERMAN BY HIS OWN
To Donkin, Sir Alfred was like a reality show contestant. He lived his entire life before his eyes. Part of what he experienced was real, part performance. He was writing and summarizing what had happened warmly. The only thing missing at the airport were cameras, a host, a broadcast vehicle, and an audience of fans.
Taking a break from writing his diary, Sir Alfred sat down and began to read the newspapers he had bought. He enjoyed reading and discussing world politics. During his time at the airport, he learned to read German and French by himself with the help of translation dictionaries and newspapers. He was very open to learning and did not like to waste his time.
When it was time for lunch, he was on his way to the fast food restaurant in the morning. He Ate Fish croquettes almost every afternoon . He had once tried to change the restaurant from which he bought his meals. However, disappointed that the french fries machine was broken for a few days, he returned to his first choice and never changed again.
In those days, airline companies were giving pilots and cabin attendants valid meal vouchers at restaurants inside the airport. Airline employees, many of whom brought their meals from home, handed their receipts to Sir Alfred as they passed the bench, so he could eat as much fast food as he wanted. He had little choice, but Sir Alfred didn't mind.
The book "The Terminal Man", written by Sir Alfred with Donkin, received very positive reviews from the critics at the time of its publication.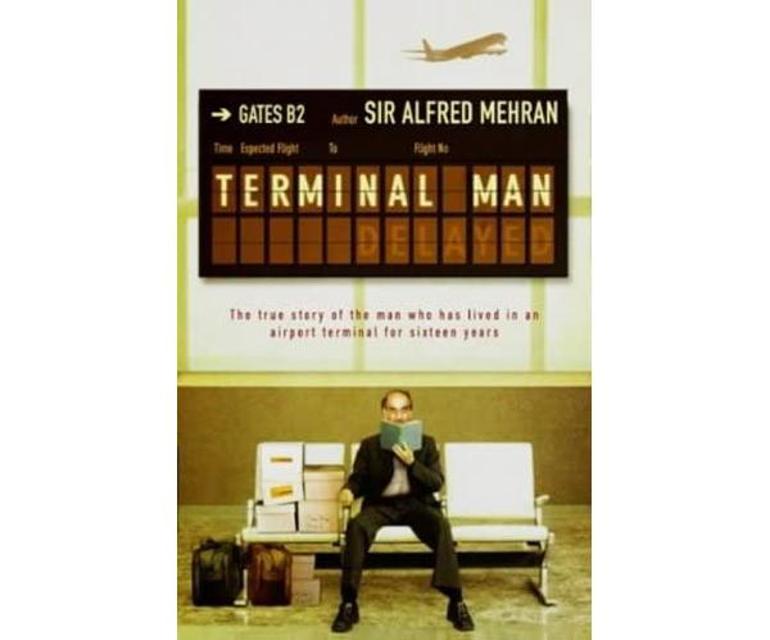 "TODAY I WILL EAT FISH"
For the rest of the day, Sir Alfred read the papers, wrote his never-ending diary, and gave interviews to curious foreign journalists who happened to pass by.
Since he didn't have a cell phone, no one, including Donkin, was able to date him. Anyone who wanted to speak to Sir Alfred had to go to Charles De Gaulle Airport and find the man in Terminal 1. Sir Alfred lived in a loneliness that was unimaginable in today's conditions.
When it was time for dinner, Sir Alfred was on his way to the fast food restaurant once more to get his fish croquette sandwich. Donkin stated that he tried to persuade Sir Alfred to try other dishes, but each time he replied, "We can try another time, but today I'm going to eat fish."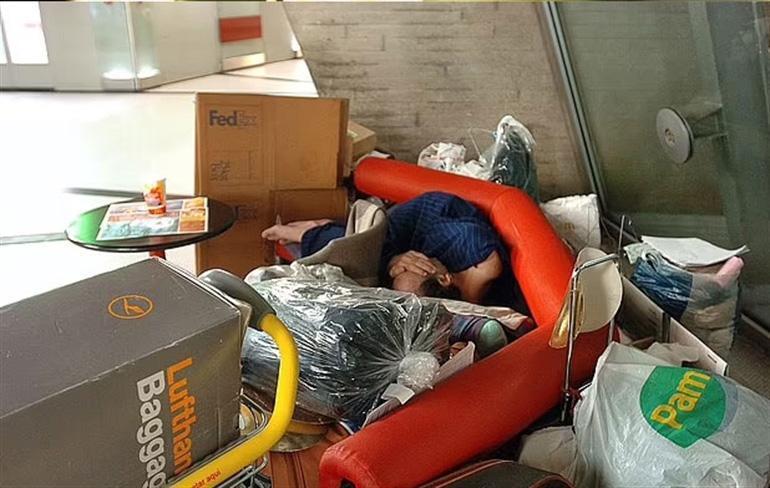 HOW TO SLEEP ON A METAL BANK FOR 20 YEARS?
Although life at the airport never stopped, it calmed down for a few hours around midnight. While Donkin normally stays in a hotel near the airport, he had tried several nights to get a better understanding of Sir Alfred's life on the metal bench next to his bed and witnessed the difficulty of the situation.
The lights were on all night, announcements from the loudspeakers only went silent between 1:00 am and 4:30 pm. The benches they slept on were narrow and uncomfortable. The sleeping person was in constant danger of falling. So much so that after the third night, Donkin stated that he had received a "very urgent call" during lunch hours and left Sir Alfred and fled to his hotel to sleep.
HE WAS EVEN USED TO BOMB ALARMS
By the morning of the sixth day, Donkin had noticed a change in the tone of the announcements made in French and that passengers were leaving the terminal quickly.
"They say 'There's a bomb,'" Sir Alfred calmly explained. Indeed, there was an unclaimed suitcase at the back of their seat. About 50 meters behind the suitcase, the airport security police stood with worried faces.
Sir Alfred sat with a calm that made it clear he had no intention of leaving his seat as one of the policemen waved softly at Donkin over his shield. He didn't want to leave his boxes full of diary pages.
With the experience of someone who had witnessed this stress many times before, he said, "There is never a bomb. This happens very often. Tourists forget their bags" and shrugged.
The film was directed by Steven Spielberg and starred Tom Hanks and Catherine Zeta-Jones.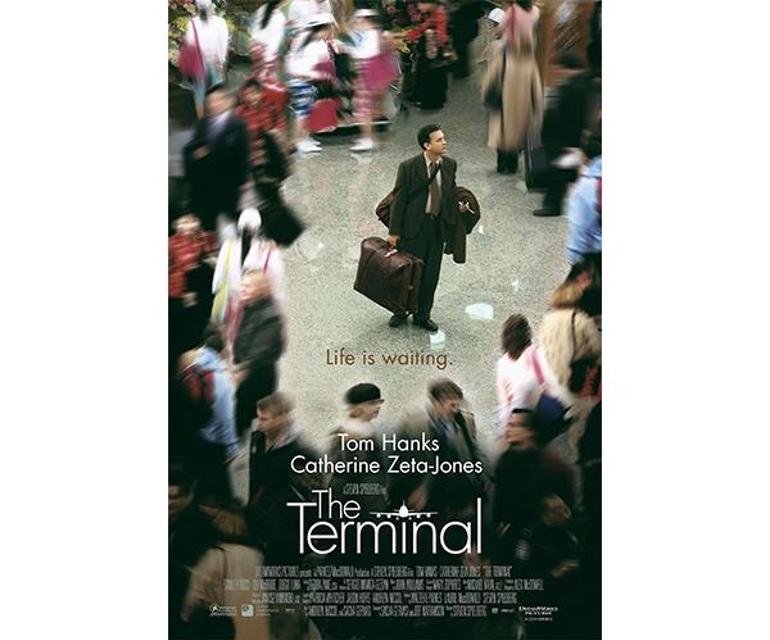 OUT OF THE BAG PAJAMAS
At this point, a difficult decision awaited Donkin. Nor did he want to see the end of Sir Alfred's quest to become an official biographer before it even started, nor did he want to run away as soon as he was faced with a dangerous situation and break the bond he had established with Sir Alfred.
Donkin eventually chose to stay and turned to Sir Alfred to listen to what happened during his days in West Berlin in the winter of 1977. But at the same time, he was watching the bomb disposal team's work from the reflection in his life and praying that Sir Alfred was right.
Sir Alfred was about to complete the story of a train journey through snow-covered West Berlin, while the robot saw finished smashing the suspicious suitcase. Unknown pajamas were found in the suitcase.
"Does this happen often?" Donkin asked Sir Alfred. When asked, he replied, "It happens once a week".
After all, they were in 2004. Several years had passed since the September 11 attacks. Pollution wasn't the only thing that put Sir Alfred's life at the airport at risk.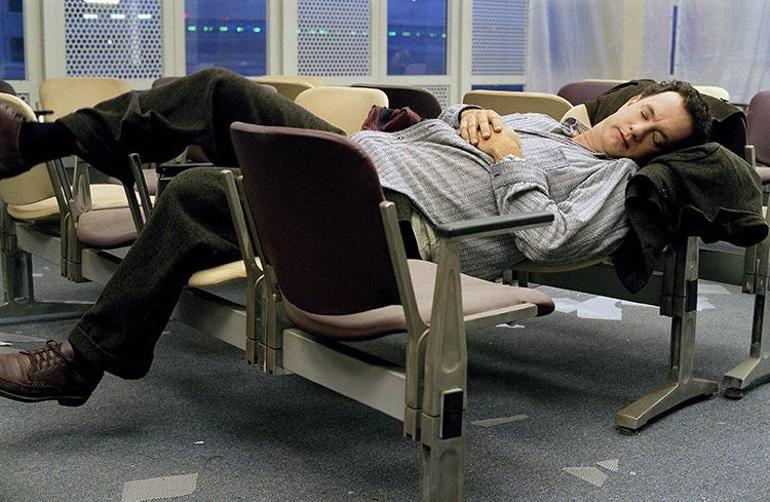 In the movie, Viktor Navorski (Tom Hanks), who comes from an Eastern European country, gets stuck at JFK Airport.
"THE BANK TOO HERE"
According to Donkin, Sir Alfred was a very calm and wise man. It was especially worth seeing when foreign journalists, who were on vacation with their children, stopped by for 20 minutes and asked for an interview. Sir Alfred was always asked the same questions, but he continued to answer calmly.
At the end of one of these interviews, when the journalist told Sir Alfred, "I envy your freedom. I wish I could live as free and carefree as you do," he replied, "There are lots of benches here." Of course, the journalist had not put into practice the idea of ​​continuing his life at the airport, instead hurriedly leaving Sir Alfred's side to catch his flight to the Caribbean.
The days Donkin and Sir Alfred spent together turned into a book called "The Terminal Man" a few months later and met with the readers. Of course, it also fell to Donkin to get Sir Alfred a few copies of the book.
Donkin said he was nervous on the way to the airport because he wanted Sir Alfred to like the book. he said to me," he said.
BEFORE DEATH AGAIN BACK TO THE AIRPORT
The entrepreneurial manager of the newspaper kiosk in terminal 1 had ordered boxes of the book. He was making good money selling these books. Sir Alfred was happy to sign the book of anyone who wanted it.
Sir Alfred lived at Charles De Gaulle Airport for two more years after the book was published. However, he had to leave in 2006 due to increased security measures at airports and health problems. The polluted air around the airport was detrimental to his health, causing frequent chest infections.
He spent several years after the airport in a homeless shelter on the outskirts of Paris. He was no longer the Man Who Lived in the Airport, but the Man Who Lived in the Airport.
Donkin ended his article with the following lines:
"I really loved Sir Alfred. He was a true gentleman. I was very sad to hear that he had died, but it was my comfort to learn that he had returned to the airport to spend the last two weeks of his life. For years that airport had been his home. I hope to sit there on his bench where he always sat, He gave Ser Alfred peace before his final journey."
Compiled from The Guardian's article, "'The Terminal Man' lived in a Paris airport for 18 years. I'll never forget the weeks I spent with him".