Science
RobydaMatti's feat: 250 km with one leg
RobydaMatti's feat: 250 km with one leg.
The trekker Roberto Bruzzone, with a prosthesis due to an accident, completed Nessie's Mountain Endurance: 250 km in 5 days.
The story of Roberto Bruzzone is as extraordinary as it can be told. A walker with a leg on his shoulder, as he likes to be called, who cyclically manages to ring together extraordinary feats. The latest is Nessie's Mountain Endurance: 250km in 5 days from 20 December to 24 December.
The strongest souls are those hardened by suffering. The most solid characters are sprinkled with scars.
Khalil Gibran
The willpower of the human being is one of the greatest drives that can be known, when everything seems to turn away, we realize that each of us has incredible possibilities hidden in our interior by years of immobility and comfort zones. And the story of Roberto Bruzzone is one of the most classic examples of when a difficulty turns into a new possibility. But before telling the latest great feat of this incredible character, it is right to know the story of him and how Roberto Bruzzone transformed into Robydamatti. For those who are walkers who know the importance of what they put inside their backpack, professional trekkers are often loaded with weight, as they must contain the essentials for survival and the success of the expedition. In Roberto Bruzzone's backpack, in addition to the usual supplies, sleeping bag and clothes, there is also his spare leg , his spare wheel in case of emergency.
The story of Roberto Bruzzone, of the walker with his leg on Ovada's shoulder, comes from far away, from circumstances that were not at all obvious that drastically changed the life of the young trekker. After a serious motorcycle accident, which injured his right leg, Roberto had to go through a real ordeal: four years of operations, therapies, relapses, for a right leg that never healed, a foot in complete equinus (instep and foot intact heel) and an unsustainable gait at the motor level.
As a boxer they taught me to understand the real potential of themselves, and I knew very well what I wanted to do in life, it was enough just to want it. After the first operation I thought that my motor life was over in April 2000, I was almost resigned to the idea of ​​staying in a wheelchair for life, but I'm stubborn and didn't want to stay still, I had to resolve the situation.

When the doctors told me that I had to salvage what could be salvaged – says Roberto Bruzzone – that I still had my leg, I replied that precisely because I had it, I wanted to decide the fate of my life and that leg: I didn't want to walk, at that moment I wanted to start running again so I told him to cut it.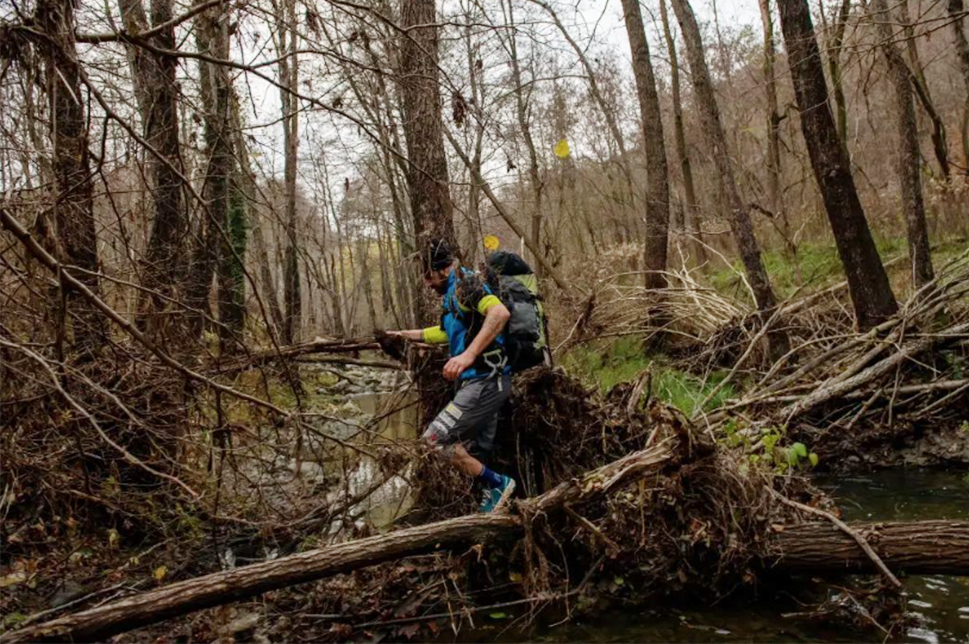 From that moment was born the new life of Roberto or as he is called by many people of Robydamatti, the walker with the leg on his shoulder . After one day he accepted the invitation of his friend and athletic trainer Alessio Alfier to try his hand at trekking, Bruzzone never stopped ringing together feats after feats . Gran Paradiso, the Camino de Santiago de Compostela, Kilimanjaro, the crossing of Iceland, Aconcagua, the crossing of Corsica, the desert of Namibia, an expedition to Peru and Bolivia and the last undertaking the " Forrest Gamb Endurance " which led him to reach the record, still unbeaten in the world of disability, of 100 kilometers in 18 hours and 35 minutes.The feats of mountaineers, explorers, those who reach a peak are historic feats, such as that of Simone Moro, who managed to reach the summit of Nanga Parbat (the eighth peak in the world) for the first time in winter, but with "one leg on the shoulder" undoubtedly has even stronger implications because the result is the same, but it is how it is achieved that is extraordinary.
Nature is something unique and experiencing it at 360° is an incredible emotion without equal. My journey as a disabled person has led me to climb incredible peaks, to admire breathtaking landscapes, but this whole journey has been my great adventure. Before the accident – ​​declares Roberto Bruzzone – I would never have thought of being a professional trekker, but life puts you in front of unpredictable crossroads and chance would have it that right after my leg was amputated I started walking and grinding long kilometers the mountains.
Nessie's Mountain Endurance and the new venture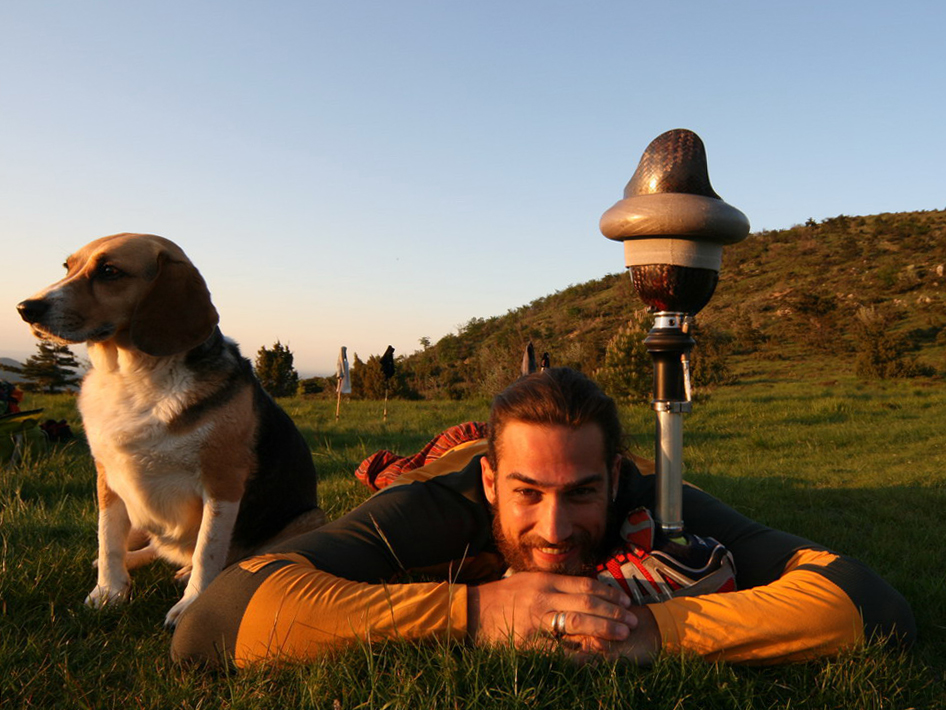 But in the period of the accident there was another event that upset Roberto Bruzzone's life, the arrival of the beagle Nessie, a puppy who accompanied Roberto in almost all of his exploits and who literally made him reborn in new life. In the moment of maximum discomfort and the awareness of having to reinvent a new way of walking and running, Nessie never abandoned her master, bonding in an indissoluble way with Bruzzone himself.
Nessie has always been with me, even when there were the most impervious stretches of trekking – says Roberto – she had no problem even staying in my big backpack, we have achieved incredible feats together and since she died in 2019, my thoughts has always been to create something dedicated to her.
The latest challenge, which started on December 20, is called Nessie's Mountain Endurance , a mission in which Roberto traveled 250 kilometers in five days independently and alone, in the woods between Olbicella and Aglieto, the places where Nessie and Roby started their first workouts , post leg amputation. And the missions do not end here as there are three new challenges for the walker with the leg on his shoulder in three years' time: 2023 will celebrate the 60th anniversary of the Vajont tragedy, 2024 the 30th anniversary of the Alessandria flood and 2025 for the 90th anniversary of the collapse of the Molare dam.
I had been training for this new challenge for months. I absolutely had to do it for Nessie and for us who have walked these woods for months and months in the first periods of walking. Everyone believed that I could finish these 250km – says Roberto Bruzzone – and perhaps the only one who doubted was me. Unfortunately in these challenges the degree of tiredness and pain rises every day and in fact there have been truly terrible days. You also want the humidity of some stages in the evening I found myself constantly making ice packs on the stump to relieve fatigue and excruciating pain.

But in the end I know myself, I know that at a certain point something triggers me that keeps me going bypassing the pains and thoughts, and so it was. The kilometers became less and less and on the fourth stage with the last 50 km to go I was already euphoric, I would have finished it crawling, I would not have stopped for anything in the world. I am happy to have concluded it because these challenges have a very specific objective, that of attracting the attention of those who need help – concludes Roberto Bruzzone – in the field of disability, an ambition that has taken shape above all in the Walk Camps, specialization courses walking for lower limb amputees. Of course all these feats will be done in the name of my greatest adventure partner Nessie.
Roberto Bruzzone, with that sincere smile, with that long American Indian hair, with those eyes full of hope and strength is demonstrating with trekking and his adventures ( www.robydamatti.it ) that exceptional feats can also be achieved with a major disability. The purpose of his exploits is to further understand that with the commitment and with the head one can get anywhere ; this is what Roberto hopes to continue to convey with his travels and walks.