News
Life has stopped in Argentina, Messi is on the pitch for the final World Cup! 'If the match of the national team coincides with the lesson hours…'
This tournament has different meanings for Argentina's captain Lionel Messi, who is preparing for the final World Cup. Argentina, shaken by political uncertainties, economic crisis and corruption scandals, relies on Messi for a little happiness. But what does the Argentine star mean for Latin America's tango country?
Argentinian Luis Lionel Andres Messi, one of the biggest stars of world football ever, is preparing to go to the World Cup Organization For The Last Time.
Led by Lionel Messi, who is shown as one of the biggest championship contenders in the 2022 World Cup and who is undefeated in 35 games, Argentina does not want to think about any other possibility than the championship.
Lionel Messi, who has been compared to Diego Armando Maradona since his first appearance in the Argentina National Team and surpassed him by leagues by some football authorities, may end his career by achieving many successes in his last tournament.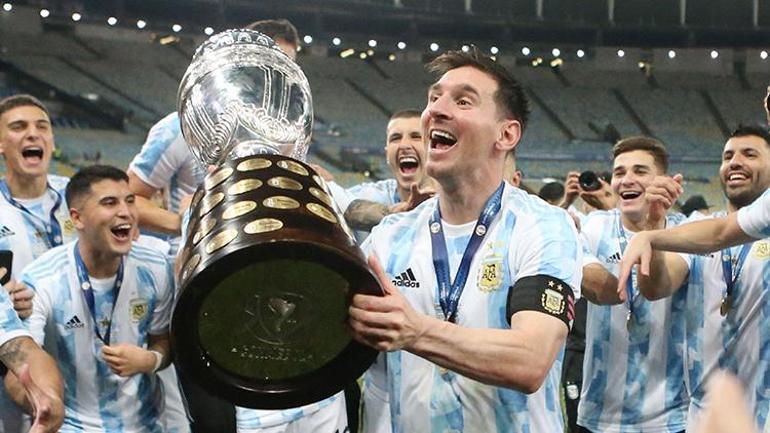 In the Copa America final played in July 2021,  Argentina with Lionel Messi defeated Brazil 1-0 and won the cup for the 15th time. Lionel Messi won his first official trophy with the national team jersey. Photo: Alamy
The living football legend, which is the only source of motivation for Argentina, which is struggling with political uncertainties today, has great meaning for the people of Argentina. Messi, who was shown as the "New Maradona" when he started football, sets an example for the "New Messi" with his tremendous career.
"This will be the last World Cup for me. What kind of legacy will Argentina's number 10 leave behind, which says "I will play the World Cup for the last time in Qatar" ? What does Messi mean to Argentina, more than just a football player, for Latin America's tango country?
THERE IS SOMETHING ELSE THAT MAKES 'MESSI' DIFFERENT; HE IS A LEADER
Argentina held the title of World Champion in 1987 and Maradona was referred to as the best football player on this planet. In the same year, a child would be born in Argentina, and Maradona would say these words for that child 20 years later:
"There is a player who took my place. I know which player you are; Messi… But there is something else that makes him different; he is a leader."
Born on June 24, 1987 in a poor neighborhood in Argentina's third largest city, Rosario, as the third child of a steel worker father and a cleaning worker mother, Messi has different meanings for the city he was born in.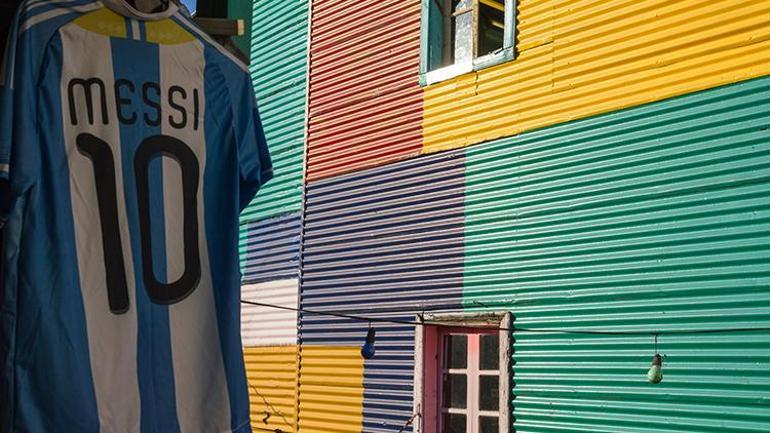 'WE WAS AWESOME TO WATCH HER EVEN AT 4 YEARS OLD'
In the Abanderado Grandoli club, where Messi started football, 4-year-old little footballers are running under the giant photos of the superstar. Knowing that Messi, who inspired them, also wore the Grandoli jersey in 1991, creates a great excitement for the little ones.   
David Treves, club president of the Grandoli team, now 45 years old, is one of those who witnessed Messi's early years closely. "Watching Messi at that age was literally unforgettable , " Treves said .
Treves, who said that despite his small body, Messi, who was only 4 years old, took the pass thrown by the goalkeeper and dribbled through the entire opposing team and brought it together with the round leather nets, saying, "It was absolutely wonderful to watch him ," and conveys the great excitement created by the football player who met him 31 years ago.
During his career, 4 UEFA Champions Leagues, 3 UEFA Super Cups, 3 FIFA Club World Cups, 10 leagues, 6 Spanish King's Cups, 8 Spanish Super Cups, 1 Spanish League Cup, 1 U20 World Cup, 1 Copa América Cup winner and Olympic Medal winner Messi is a name who has received the Ballon d'Or (European Footballer of the Year) award 7 times, which is given to the best football players of the year.
The only thing missing in Messi's career, who is 35 years old, is a World Cup.
The Argentine people, who want to take the rematch of the 2014 World Cup and therefore clamped around Messi, know that this will be the last opportunity to watch the greatest Argentine in the history of football and look forward to their matches.
'WE SHOULD PLAY TO MAKE OUR PEOPLE HAPPY'
In addition, Argentines, struggling with political uncertainties and economic turmoil, have come to look forward to the World Cup in order to get away from the pessimistic atmosphere they are in.
Argentina, the third largest economy in Latin America, is struggling with inflation rates reaching 100 percent this year, political uncertainties and corruption scandals. In the polls with the Argentines regarding the tournament, it is seen that the expectations from Albiceleste (white-sky blues) are high.
José Abadi, a psychiatrist and writer in the capital city of Buenos Aires, said , "The World Cup can restore enthusiasm to a country that has been frustrated and surrounded by a sense of failure in recent years."
"For once, we should not play to prove to the world how good our football is, but to make our own people happy."
DIFFERENCES FORGOTTEN, PEOPLE BECOME ONE HEART
Argentina, where political polarization is on the rise, has gained the appearance of a different country in the last month. The people of Argentina, who put their differences aside, almost became a national fire.
All of Buenos Aires was dressed in national colors. Even during the pre-tournament friendly matches, the streets were empty and the shops were closed; Production stopped in factories.
'STUDENTS DO NOT COME TO SCHOOL IF THE MATCH IS NOT BROADCAST'
In schools, young people, together with their teachers, stood in front of the televisions in the classrooms and waited for Messi, whom they admired, to appear on the field. So much so, that Argentina's Education Minister, Jaime Perczyk, told The Washington Post, " If the national team's game coincides with class hours, schools have to broadcast it. If they don't do this, no young people will come to the classes," he said. (The Argentina national team will play the matches in Group C at 07.00 and 16.00 Argentina time.)
"Football is part of Argentine culture and we educators use this game to enrich students' emotional intelligence," Perczyk explained.
'GIANT SCREENS ESTABLISHED IN FACTORIES'
The Argentina national team with Messi is enough to excite not only the youth, but also everyone from 7 to 77. Cristian Pereyra, a 48-year-old factory worker, says managers have had giant-screen televisions installed in their workplaces to watch the matches.
"Every time Argentina has a game, the whole factory stops work," said Pereyra, adding, "Even though some of us don't like football, everyone is very excited when it comes to national matches . "
The football craze got to such a level earlier this year that there is a shortage of Messi posters, flags, wall stickers and Messi player cards (Figurita).
Evaluating this flood of love, Grandoli Coach Marcos Almada says that Messi has had a different meaning for Argentines from an early age, and that he was first referred to as the "new Diego Maradona". But, according to Almada, Messi has never been as popular as he has been recently.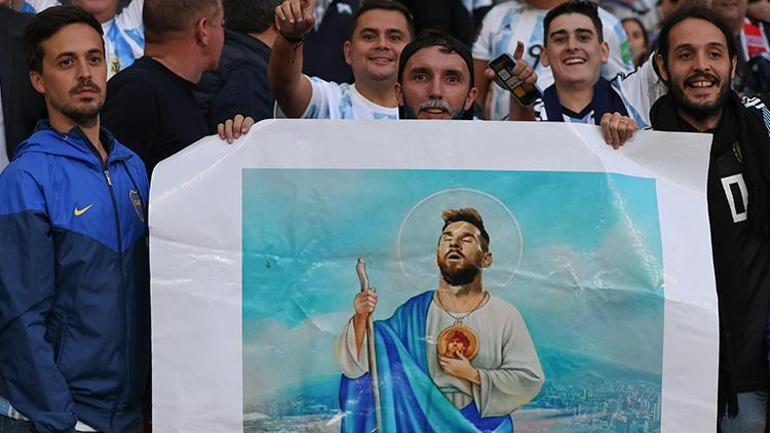 'HAND OF GOD' IS A STORY OF REVENGE
Of course, the meaning of Maradona for Argentina is very different. Maradona was a name that gave different feelings to the Argentines in the 1986 World Cup. The "Hand of God" touch, which made Maradona an iconic figure, had great meaning for the Argentine people.
Maradona took the revenge of the Falklands War between England and Argentina four years ago in the tournament with two goals and the memorable "Hand of God" touch, and then lifted the last World Cup, which went to Argentina's museum.
Without a doubt, Messi has never been as iconic a character as Maradona. So much so that the people of Argentina took their love of Maradona one step further. Some Argentines made the memorable football player a religious icon and founded the "Church of the Hand of God".
WILL THE NATIONAL HERO BE MESSI AFTER MARADONA?
Founded in 1998 by a group of 150 people in the city where Messi was born, the church is celebrated as New Year's Day on October 30, when Maradona was born. More than 120 thousand people from 60 countries became members of the "Hand of God Church", headquartered in Buenos Aires, and this number is growing day by day.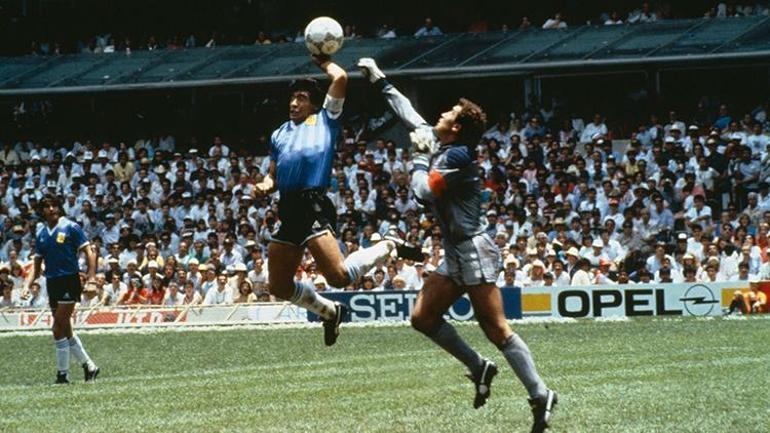 On June 22, 1986, a historic rivalry for the quarter-finals was taking place at Mexico's Aztec Stadium. Maradona's "Hand of God" goal in the match between Argentina and England was 1982's revenge for many Argentines. 
Psychiatrist Abadi, who stated that Maradona became a "totemic father" figure for Argentines with his death in 2020, says that the situation of Messi, who came after Maradona, has been complicated for the fans so far.
Abadi said: "Messi has not only been loved, he has been criticized. He has never been able to take on the role of a national hero," he said.
GREAT DISAPPOINTMENT IN 2016
Although Messi was shown as the best football player in the world with his successes in Europe, he could not become a national icon due to his lack of national success.
Although he won the Olympic gold medal with Argentina at the Beijing Olympics in 2008, he is seen as the star in his national team career who lost the Copa América final three times and lost the 2014 World Cup final to Germany.
After losing to Chile in the 2016 Copa América final, he said, "The national team is over for me. I've played the final four times. I did my best. It was the success I wanted most, but it never happened. I'm leaving. It would be best for everyone if I quit." The statement caused great disappointment, and comments began to be made that Messi could never look like Maradona.
'WE SHOULD BE PROUD OF BOTH MESSI AND MARADONA'
Still, the news of his departure from the national team deeply affected many Argentines. However, a national team without Messi was unthinkable. Soon, Messi's pain and disappointment had the opposite effect. Those who knocked him down made calls for a player like Messi not to leave the team. Then Messi came back and won the Copa América last year, which was a disappointment four times.
Factory worker Pereyra lashes out at those who compare Messi and Maradona. "These comparisons are ridiculous," says Pereyra.
"We should be proud that both Messi and Maradona are Argentines."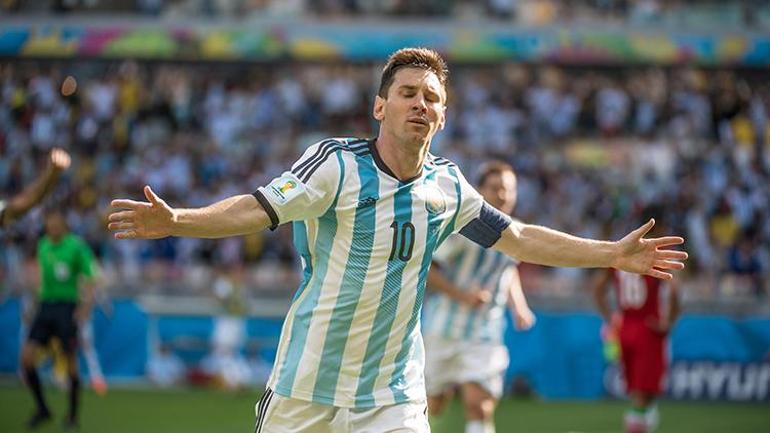 'COMING OUT OF TWILIGHT'
In the labyrinthine narrow streets of Rosario, Messi's childhood has become a sanctuary these days. The two-story concrete house where he was born is still unpainted, but Messi's name is written on almost every corner of the street; The walls are decorated with his paintings.
Evaluating the atmosphere in Argentina before the World Cup, Argentine Sports writer Ezequiel Fernández Moores said, " Messi is coming out of the twilight of his career to Qatar as the best player in the world."
"I have never seen Messi like this in the national team, both as an individual and in terms of football. He is much more relaxed and mature. He is now the natural leader of the team."
'DIEGO'S LEGACY IS IN THE HEART OF MESSI'
Shortly before the tournament, those gathered in the "Hand of God Church" said, "We miss every match of his. As the World Cup approaches, this longing increases even more," he shouts together his longing for the "hand of God". However, the fans who put all their hopes on Messi trust that Maradona's spirit will be with Messi and Argentina Throughout The Tournament.
Speaking after the service, Laura Gómez said: "Diego's legacy is at the heart of Messi. Whenever I look at the stars in the sky, I say, 'Diego, please help us in Qatar!' I say" , explains that they have started to wait for that glorious day when they will lift the trophy.