White teeth are the symbol of cleanliness, increase our self-confidence and provide an aesthetic appearance. That's why we want to whiten our teeth that turn yellow over time. So, how effective and healthy are the whitening procedures performed for this purpose? Could we be unknowingly harming our teeth? Experts answer
There is a dizzying array of products on the market, from toothpastes to gels, floss to blue-light devices, that claim to brighten and whiten our teeth. There are so many options for these products that fill pharmacy shelves and even sell online that everyone is confused.
And more importantly, are teeth whitening products as effective and safe as claimed?
Experts who spoke to The New York Times said over-the-counter teeth whitening products work for two reasons. One of them removes stains on the teeth using physical force , and the second removes these stains with the same chemicals used in office whitening procedures .
Dorota Kopycka-Kedzierawski, a dentist at the University of Rochester Medical Center; He stated that toothpastes and natural products such as baking soda will have an abrasive function, will physically file the stains on the surface of the teeth, and that many normal toothpastes will therefore physically remove the stains and residues on the teeth by brushing.
Timothy Bromage from the New York University Department of Dentistry; He noted that whitening floss, gel-filled mouth trays , and mouthwashes whiten teeth with chemical bleaching agents such as carbamide peroxide or hydrogen peroxide. According to Bromage, the biggest difference between these products and the office versions is that over-the-counter products have higher concentrations of chemicals.
WHEN EVEN NORMAL PASTES
Dean of the University of Toronto Department of Dentistry, Dr. Laura Tam said that both physical abrasion and chemical whitening products are effective in whitening teeth. Tam added that when toothpaste ads are touted as "teeth whitener", it's usually a bit more abrasive than regular toothpaste, but even ordinary toothpaste without the word "whitener" on it will work for teeth whitening .
Chemical whitening products; can similarly reduce stains from coffee, tea, red wine or cigarettes. Dr Kedzierawski said they may also be effective in reducing stains on the inner layer of teeth that occur after traumatic dental injuries or after taking certain antibiotics in children. He also noted that pigmented foods and drinks can seep into tooth enamel and stain the inside of the teeth.
Saying that some foods are the friends of the teeth and some of them are the enemies of the teeth, Dentist Dr. Sahin Durmus; He explained that foods and drinks containing carbohydrates and high amounts of sugar are not recommended because sugar becomes sticky when combined with saliva and it is difficult to clean it from the teeth. Durmuş stated that long-term antibiotics, hormonal drugs, and drugs used in liver treatment, especially used in childhood, also damage the teeth.
WHITENING PROCESS DOES NOT HAVE THE SAME EFFECT ON EVERYONE
Dr. Tam said that not everyone can see the same effects with home-type whitening products, the effectiveness may vary because tooth enamel absorbs the whitening materials differently, and some people have a darker color genetically.
DOES BLUE LIGHT WHITENING KITS WORK?
One of the popular products in recent years is teeth whitening devices working with Blue Light Technology (LED). Are these products, which promise to get white teeth in a short time like 2 weeks with only 10-15 minutes of use, really effective?
Dr. Tam said these products work, in theory, because blue light activates the whitening chemicals, making them work faster, but he didn't recommend activating the whitening agent using anything like light or heat.
Stating that the hydrogen peroxide used in the teeth whitening process is applied to the surface of the tooth by the physicians and then activated with a special blue ray, Dentist Dr. Şahin Durmuş stated that with this process, the substance penetrates into the tooth and breaks up the stained and yellow areas and added: "The increase in the oxygen ratio of the liquid in the tooth provides a brighter and whiter reflection. However, we do not recommend any product that patients can buy and use themselves."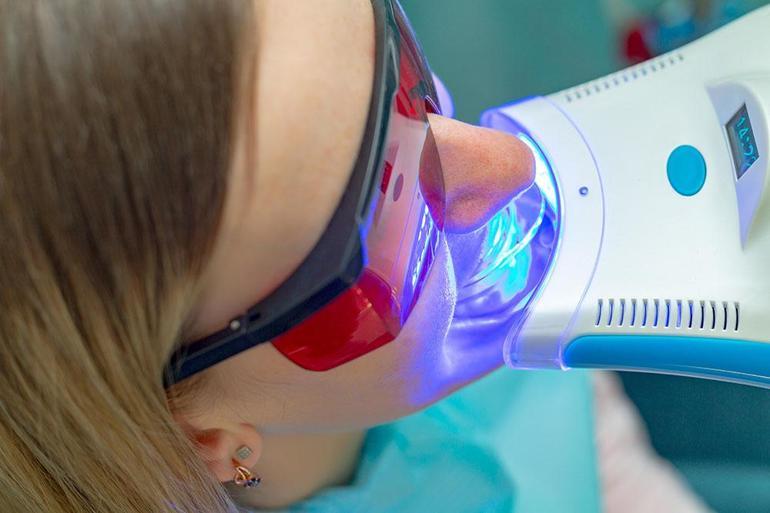 CARBONATE DOES MUCH DAMAGE THAN BENEFITS
Dr. Kedzierawski emphasized that the use of baking soda mixed with water as a paste is quite common, but because it still does not contain carbonate fluoride, toothpastes recommended by dentists would be a better choice.
Durmuş, who said that no products such as baking soda, banana peel, lemon, salt, which are used to whiten teeth in natural ways , are strictly recommended, and that these processes provide teeth whitening, but they abrade the teeth and reveal a new layer under the enamel, the scratched tooth surface keeps stains faster and these stains cause micro cracks. He emphasized that the teeth could not be whitened sufficiently in the office type teeth whitening process due to the
On the other hand, charcoal toothpastes are another ingredient often found in whitening toothpastes. However, Dr. Kedzierawski stated that there is no scientific evidence that activated charcoal is effective and safe for dental care, and the American Dental Association does not recommend it. According to Kedzierawski,  activated charcoal can be extremely abrasive to your tooth enamel and can damage your gums.
Şahin Durmuş emphasized that there is only a one percent difference between the most effective and ineffective pastes and that the important factors here are mechanical cleaning, brushing teeth correctly every day, using dental floss and mouthwash.
ARE TEETH WHITENING PRODUCTS SAFE?
Durmuş stated that if the patient's tooth enamel is thick, more whitening is achieved because the process affects the enamel, and some patients' tooth enamel is thin, in this case, office or home bleaching is not very effective, so how much whitening can be done in the teeth whitening process varies from person to person. told.
Stating that home-type teeth whitening products can cause many problems in the mouth, Durmuş emphasized that some of these products have night plaques for the upper and lower jaws, that the agent, that is, the whitening gel, is put into the teeth and passed on to the teeth. He explained why his doctors made a night record suitable for the patient's mouth:
HIGH RISK USING IT WHILE SLEEPING
"The reason for making personalized plaque is that the whitening agent can provide full adaptation on the teeth, does not overflow, and saliva does not enter the plaque. It can cause problems when saliva enters the plaque and when the saliva overflows, the agents overflow into the mouth. Office type whitening is applied for 45 minutes due to the high concentration of the agent, while home type takes longer hours. Agents acting intraorally for long hours cause serious problems even though the concentration of the agent is low. Especially during sleep, home bleaching agent should not be used, ingestion can cause many problems.
Durmuş suggested that the agents and plaques to be used at home should be worn for 2 – 2.5 hours, and that the teeth should be brushed by removing them before going to sleep. stressed the need to Inform.
Dr. Bromage said that while teeth-whitening products are generally safe, it's the enamel that makes your teeth look whiter, and warns that this whitening effort can have the opposite effect. Because the structure called dentin, which forms the inner part of the tooth, is yellow-brown in color .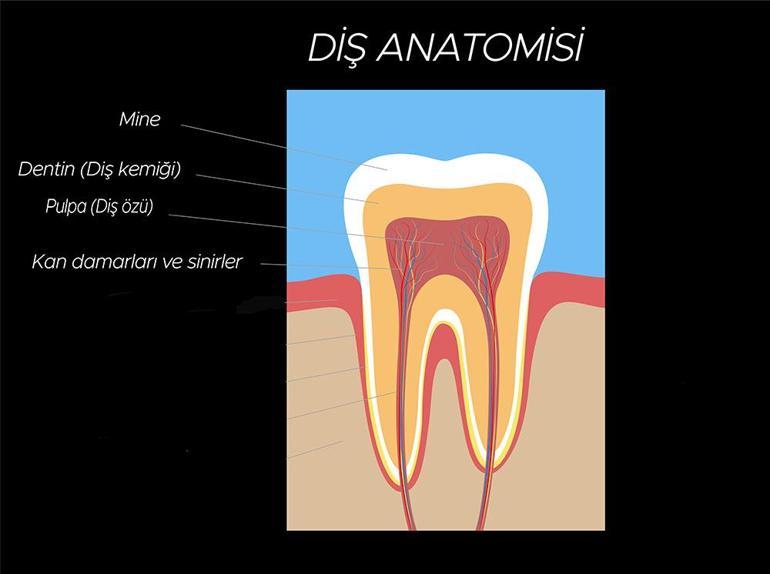 Dr. Tam said that in general, at-home teeth whitening products are effective and safe when used as advertised, but that shorter exposures to lower chemical concentrations are best, meaning office whitening is best . Dr. He  warned that anything claimed to be 'extra potent and effective' should be avoided .
Dr. Tam stated that teeth whitening is never a permanent solution, the effect of the home method can last from a few weeks to a few months, but the effect of the office type application will last for a year or more. He also underlined that since the teeth turn yellow with age, even if whitening is done, they will definitely return to their old color.
Dr. Kedzierawski reminded that none of these whitening applications will work on teeth that have had fillings or other procedures.
Durmuş said that if the oral care is done correctly and the consumption of products such as coffee and tobacco is not excessive, the teeth will remain white and will protect the whiteness of the teeth in the long run, and added: Teeth can easily maintain their whiteness without
WHAT ARE THE DIFFERENCES BETWEEN HOME AND OFFICE WHITENING?
Durmuş explained the differences between office and home bleaching with the following words:
"Hydrogen peroxide is used in both of these methods, but the concentration of the agent used in office type, that is, under the supervision of a physician, is 28-33% (varying from brand to brand) and each brand has different application devices recommended to activate this agent. When we consider all these, office type teeth whitening can give immediate results, and patients can see results within 45-50 minutes."
Indicating that hydrogen peroxide agent is also used in home bleaching, but its concentration is low (between 12 and 16 percent) compared to office type, Durmuş suggested that home bleaching should always be done under the control of a physician and personalized plates should be used.
Underlining that office- type Teeth Whitening is more expensive than home-type bleaching, Durmuş listed the other disadvantages of office-type bleaching as follows:
" Office bleaching can cause sensitivity and damage the soft tissues in the mouth. In addition, after bleaching, the person should not consume any product that will leave a stain on a white cloth for a minimum of one day (recommended two days). Accordingly, things that can leave stains such as tea, coffee, and tomato paste dishes should not be consumed, more transparent and liquid foods (such as highland soup) should be consumed. This is because the concentration of the agent used in teeth whitening is very high, and the process continues in the mouth for two days.