News
Exercise on 'unarmed' islands from Athens
In accordance with the 1923 Lausanne and 1947 Paris agreements, Greece conducted consecutive exercises on the Aegean islands, which had a non-military status.
Within the framework of the annual training program of the Greek Armed Forces, the "Night Lightning" exercises on the island of Lesbos and the "Kolosos" exercises on the island of Rhodes were held recently. The scenario of these two air-assisted ground exercises was "prevention and repelling of enemy landings".
US Armored Armored
In addition to all military units on the island, 2 F-16 warplanes, 2 Apache type attack helicopters, 2 Kiowa reconnaissance helicopters and 2 UH-1H search-rescue-transport helicopters participated in the "Kolosos" exercise in Rhodes. In addition, some of the 1200 M-1117 armored combat vehicles, some of which were donated by the USA and some of them were delivered, took part in an exercise for the first time.
THE HEAD OF THE GENERAL STAFF WATCHED
Greek Chief of Staff Konstantinos Floros also watched the last part of the "Kolosos" exercise, which was held at the "Katavias" firing practice area on the island, where real bullets were used and 80 rockets were launched from 2 RM 70 type multi-barreled rocket launchers. Floros claimed that Greece is a security element in the Eastern Mediterranean. Greece, saying, "We see a threat from Turkey," claims that it has armed the islands with non-military status within the framework of self-defense, pursuant to Article 51 of the UN agreement.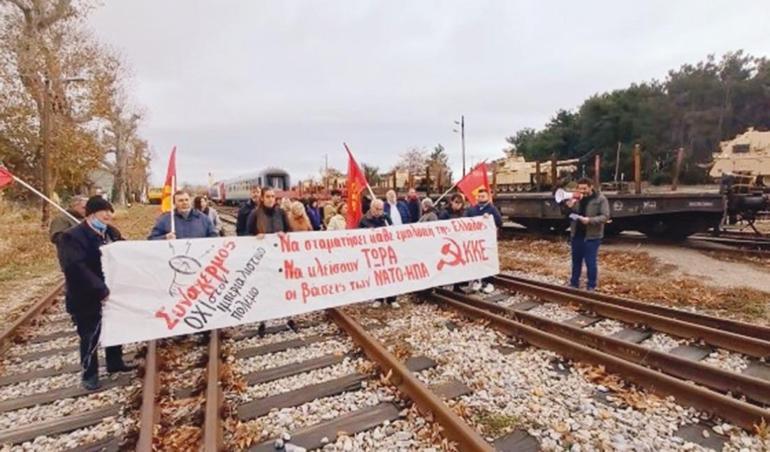 TRAIN CARRYING US SOLDIERS DELAYS
The Train Carrying US armored vehicles and containers with various military supplies from the port of Alexandroupolis (Alexandroupolis), which is about 40 kilometers from Turkey, to the Balkan and Baltic countries , derailed the wagon containing American soldiers a few kilometers after its departure. During the reassembly of the wagon, the members of the Greek Communist Party (KKE) carried out a protest on the railway, carrying banners that read "Shut down the US and NATO bases".