News
'Diplomacy instead of tank shipment' request
Tens of thousands of people attended the demonstration in the German capital, which was organized by those who advocated ending the war in Ukraine with negotiations instead of arms shipments.
According to the police, at least 13 thousand people, and according to the organizers, close to 50 thousand people attended the demonstration, which was held to demand that Russia's war in Ukraine end through dialogue instead of weapons. The demonstration in Berlin, led by Germany's most well-known women's rights activist Alice Schwarzer and Sahra Wagenknecht from the Left Party, showed the historical Brandenburg Gate in Paris Square and Unter den Linden street within the borders of the former East Germany, and 18 March Square within the borders of West Germany. and it was held on June 17th Street. Pro-war symbols such as "Z" and "V" letters, as well as far-right symbols and banners, and military uniforms are prohibited, and anti-war opponents from various parts of Germany, especially the capital Berlin, participated in the demonstration. Right-wing populist, It did not go unnoticed that some deputies and supporters from the Alternative for Germany (AfD) party were also reacted to. In addition to the banners with the words "FRIEDEN" (Peace) in capital letters, posters such as "End the war" and "Diplomacy instead of the export of arms" were carried, and slogans such as "Putin withdraw the soldiers" and "Peace instead of war" were chanted.
'THE DANGER OF WORLD WAR'
Sahra Wagenknecht, a member of the Left Party Bundestag, who is one of the organizers of the demonstration in Berlin, although her party did not agree, said in her speech, "For the war to end, Ukraine does not need weapons, diplomacy and both sides need to be ready for reconciliation." Wagenknecht said of the participants, "Making peace without arms!" He criticized the sending of weapons to Ukraine, saying, "The danger of World War II increases with every weapon we send to the powder keg." While accusing the Green Party Federal Minister of Foreign Affairs Annalena Baerbock of "acting like an elephant that broke into a porcelain shop", she said, "These Green Party tank freaks don't represent us."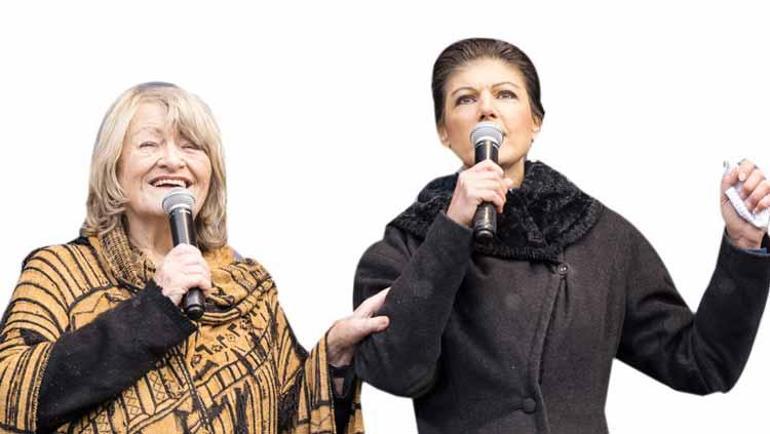 SONG OF LENNON
"I would love to dance on stage while John Lennon's 'Imagine' plays at the end of the show," Wagenknecht said. Nearly 400 police officers took part in the demonstration. It was stated that the demonstration was generally uneventful, but the leftists, who reacted to the extreme right-wing and right-wing populists taking part in the participants, made verbal taunts. On the other hand, the "Peace Manifesto" by Alice Schwarzer and the controversial politician in the Left Party, Sahra Wagenknecht, has so far appealed to Prime Minister Olaf Scholz, which includes ending the war by negotiating with Russia instead of sending weapons to Ukraine. It was also announced that the person signed it.
CALL TO PUTIN
– Saying that Germany Does Not Understand Those Who Want To Send Weapons To Ukraine, Wagenknecht said, "Today, the politicians of our country want to destroy Mikhail Gorbachev's Russia, to which we owe Germany's unification . We really do not want the descendants of millions of Russians brutally killed by the Germans in the Second World War to be attacked by German tanks." "Of course, Russian President Vladimir Putin should also be ready to compromise and Ukraine should not be a mandate of Russia," Wagenknecht said. Schwarzer, on the other hand, said that it was right to give Ukraine weapons to defend itself, "but after a year, the aim and proportionality of this war should be questioned."