After the earthquakes in Turkey, aid from many countries continues.
Turkey was shaken by two major earthquakes in Kahramanmaraş on February 6th. Earthquakes caused great destruction in Kahramanmaraş, Kilis, Diyarbakır, Adana, Osmaniye, Gaziantep, Şanlıurfa, Adıyaman, Malatya and Hatay. After The Earthquake disaster in Turkey, aid from all over the world continues.
TOTAL 70 MILLION DOLLARS FROM QATAR
Qatar Announced That It Has Provided Approximately 70 Million Dollars in aid for earthquake victims in Turkey and Syria so far . The Spokesperson of the Ministry of Foreign Affairs of Qatar Majid al-Ansari stated that 168 million riyals ($46 million) was collected in one night in the "Aid and Support" campaign launched for the earthquake victims, while the Emir of Qatar Sheikh Tamim bin Hamed Al Sani added 50 million riyals ($ 14 million) to the campaign. ) reminded him of his support.
Airlift for help from UAE
The United Arab Emirates (UAE) Ministry of Defense stated that the "Yiğit Süvari 2" operation, which was launched to help earthquake victims in Turkey and Syria, continues. It was stated that a total of 91 aid planes have been sent to Turkey and Syria so far, and a total of 2,549 tons of humanitarian aid materials have been sent to both countries.
HUMANITARIAN AIRPLANES FROM USA
US Ambassador to Ankara Jeff Flake shared on his social media account the photos of the first shipment of humanitarian aid supplies, which will be sent from the USA to the region, of 10 planes to Turkey.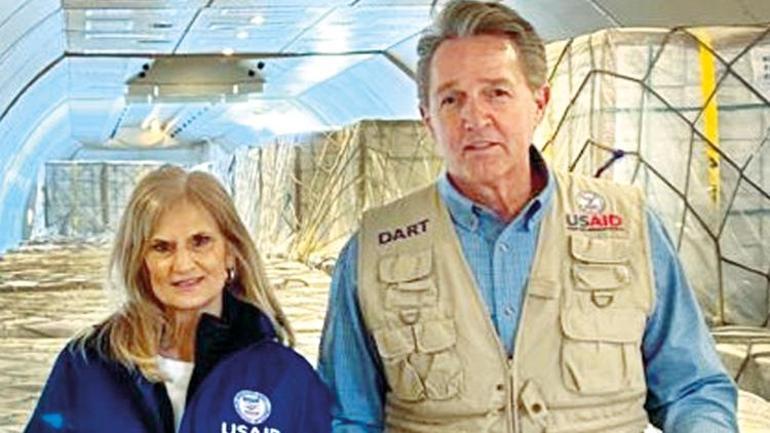 Right Jeff Flake
TENT AND HOUSING UNITS FROM EU
The EU Commission made a statement regarding the humanitarian aid that the EU has mobilized so far for people in Turkey and Syria affected by the Kahramanmaraş-centered earthquakes. In the statement, it was stated that 18 EU members sent shelter materials, heaters, generators, furniture, medical equipment, hygiene kits, food and clothing for Turkey.
55 TONS OF HELP FROM KAZAKHSTAN
The Kazakhstan government has sent 55 tons of additional humanitarian aid for the disaster victims in the earthquake-affected areas in Turkey. According to Kazinform, the plane carrying a 55-ton tent, heater, warm clothing and other necessities has landed at Gaziantep Airport.
1 MILLION EURO FROM GREEK SHIPPING
Greek shipowner Marios Iliopoulos donated 1 million Euros to Help Earthquake Victims. Meeting with Foreign Minister Mevlüt Çavuşoğlu in Ankara, İlopoulos also had the opportunity to meet with President Tayyip Erdoğan. Iliopulos, owner of the Seajets company, told Hürriyet, "I wanted to express my support to the Turkish people. If the two countries maintain friendly relations, they will become the greatest power in the Eastern Mediterranean.