News
After the Moroccan victory, the streets of Belgium got mixed up! Events broke out at the celebrations in Brussels
After Morocco beat Belgium 2-0 at the 2022 FIFA World Cup in Qatar, the streets were mixed in the Belgian capital Brussels.
After Morocco Beat Belgium 2-0 in the second match of the 2022 FIFA World Cup Group F in Qatar, the streets were mixed in Brussels, the capital of Belgium. A group thought to be Moroccan supporters attacked some vehicles passing by near the historic Grand Place. The group, which turned a vehicle upside down, set the electric scooters on fire while removing the benches around. Many vehicles and shops were damaged in the incidents. A journalist was injured when fireworks hit his face during the attack on the police with firecrackers. No information was given about the health status of the journalist.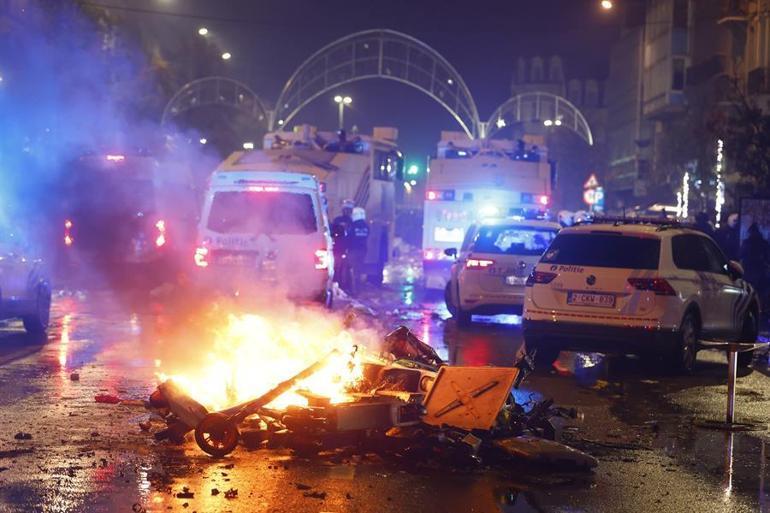 THE POLICE INTERVENED
Upon the growing events in a short time, many police officers came to the scene and intervened in the crowd with TOMAs. Due to the proximity of the events to the historical and touristic center of Brussels, the Grand Place, the police prevented the events from spreading to the touristic center by setting up a barricade.
"CATCH" ORDER FROM THE MAYOR
Brussels Mayor Phillipe Close expressed his discomfort over the events and said, "I ordered the police to arrest those who caused the incident." Ruddy Vervoort, Prime Minister of the Brussels-Capital Region, condemned the violence.